Seems Like A Little Too Much
Due: Monday, 02/15/16 9:59am pst
yourbandname_slaltm.mp3 sent to
fightmaster@songfight.org
(
tips
)
Corvette
Stevierock
redlines to pull ahead of Slickitude for the win!
FAWM 2016
FAWM 2016 is on! February Album Writing Month (aka FAWM) is upon us. Crank your songwriting up by not only entering a few Song Fights but also rounding out a 14.5 song album in the year's shortest month.

Song Fight! Live 2015 8/14-8/15 Portland, OR
The annual Song Fight! Live concert and meet-up was held in Portland, Oregon, on Friday, August 14th, and Saturday, August 15th. Congrats to host anti-m for winning the live fight! Many fighters came out for a good time, lots of music, and a lot of fun times.
Check the boards for photos, audio, and video.

Sockpuppet: Refactor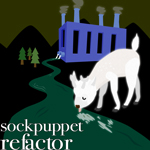 The fourth
Sockpuppet
album, Refactor, is now available for preorder, to be released on EIEBC day, June 14, 2015. Buy early and buy often!

The Rockening
Rules have been published. See
the board
or the
official website
.

got news of interest to songfighters? playing a gig? got a new cd out?
send your song news here
.