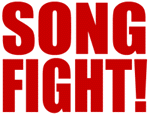 song fight! submission
email specifications:
subject:
Looking 4 U
message:
Your Band Name
attachment:
yourbandname_l4u.mp3
This is formed from your band name (not including "the"), all lower case, with no spaces, an underscore, and an acronym of the title (or in the case of one word titles, the title), followed, of course, by a period and the file extension "mp3". More in the
faq
.
You wouldn't think we would need to say this, but use the actual title as shown and your actual band name, kapeesh?
Here's how it works. Click the names to listen, then check the boxes next to your favorites to vote for as many as you like, but at least two. Check all the good ones, don't check any of the bad ones, then press the vote! button to register all of your votes at once. One round of voting per fight per customer, please.